posted on March 17, 2009 in
Cool Stuff
,
General
,
Malaysia
with
4 Comments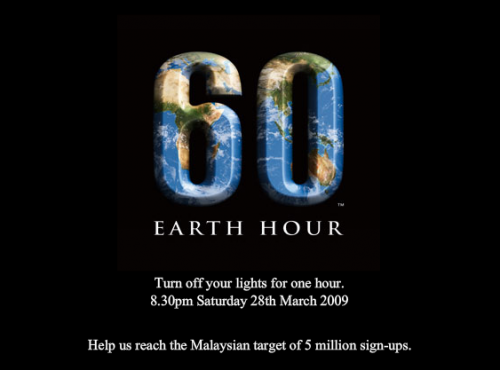 80 countries, 1429 cities, 5085 organizations and 16995 businesses have pledged turn their lights off on  28th March 2009 for 1 hour from 8.30pm till 9.30pm in support of earth hour 2009. That's the current global support Earth Hour 2009 has received  so far.  The global goal is to reach 1 billion participants…..
Earth Hour is back this year. It is getting bigger. Well, for those of you who are hearing it for the first time, let me give you a short history on how Earth Hour came about and how the people from all over the world are contributing to it.
In 2007, the World Wide Fund for Nature Australia (WWF) and the Sydney Morning Herald organized a campaign against global warming. Their campaign was that all the people living in Sydney, inclusive of the corporate sector, switch off all lights for an hour in show of support in the fight against global warming. This was the starting point of Earth Hour and they had decided that it would be helpful during the Global Climate Change Conference in Copenhagen in 2009. The event managed to reduce electricity consumption during the hour by 10.2 per cent, and nearly 2.5 million people (57 per cent of Sydney's population) are believed to have participated.
This campaign did not end there. In 2008, the response and support from people all around the world grew. People from Canada, Japan, Switzerland, America and many more countries participated in this global event. It created awareness in people. We knew that an individual can make a difference when combined with million other individuals around the world who have similar concerns over the climate change.
So, once again, Earth Hour 2009 is being held on the 28th of March. Many fortune 500 companies, big firms and associations are participating. Schools are encouraged to expose their students to Earth Hour and create the awareness in them. Please do ensure that all lights are switched off on that particular day from 8.30 p.m. to 9.30 p.m. This year, the goal is to have 1 billion people to switch off their lights. So, please do not hesitate to be part of this historical event. I am sure Mother Nature would accept your token of appreciation!!!! http://earthhour.org.my
Also, don't forget to check out Earth Hour Malaysia 2009 ads on YouTube.
Come on guys, it's just for an hour. Give mother nature a break….
Thanks to me good buddy Abinesh for getting me into Earth Hour 2009, My life just got greener 😀