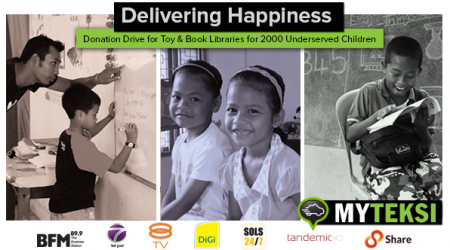 MYTEKSI is currently running a donation campaign for undeserved children across Malaysia. They are looking for English children books and toys.
The campaign will be happening on these dates, 28th & 29th, December 4th & 5th, 11th & 12th, 18th & 19th January.
Question: I have books and toys to give away, what do I do now?
Easy, install the MYTEKSI app on your android, apple or windows phone/tablet, register if you haven't already, book a taxi and select "MYTEKSI HQ" as the destination and finally enter the "#gifts" hastag in the "notes to driver" section.
Your taxi will show up, load your gifts  drive them off  to MYTESKI for distribution. All for free! , yes FREE!
MYTEKSI has made it super easy and cheap for you to contribute so open up your hearts and share.