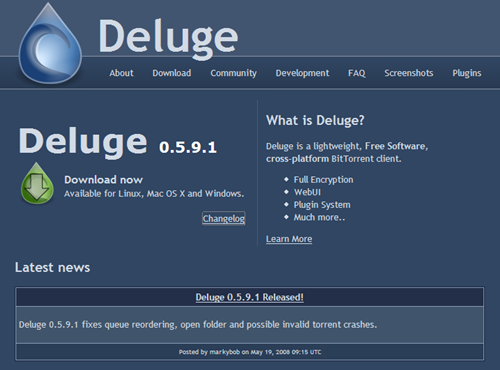 Not been following Deluge for the past few months. I had to fall back to Windows since my damn Exchange server could not work with Linux.
But anyway, talking about good timing. OpenSUSE 11 is set to be out in 2 days and my office decides to get me a new notebook. A lenovo R61, can't ask too much but it should work fine with OpenSUSE 11. I'll finally get to Deluge again.
The current stable release for Deluge is 0.5.9.1. There have been quite a few fixes put in since my last Deluge update. Read the changelog while [downloading][2] the latest version.
Deluge 0.5.9.1 (19 May 2008)
Fix queue reordering on startup
Fix open folder
Fix advanced progress bar when only 1 piece in torrent
Fix to prevent possible invalid torrent file from crashing Deluge
Deluge 0.5.9.0 (30 April 2008)
Fix ratio
Fix opening folers/files on windows
Move all packages to use Python 2.5
Deluge 0.5.8.9 (14 April 2008)
Fix segfault caused in 0.5.8.8 when adding torrents
Change fast resume to use is_finished
LT - Fix private flag.
LT - Verify url before connection to web seed.
Deluge 0.5.8.8 (09 April 2008)
Fix ubuntu hardy and debian sid bug sine they've renamed and broken up the packages.

Fix ratio (again)

Sync with asio 1.0 release li>Remove file manager from preferences

Sync with libtorrent 0.13 release

Fix for vista dbus not closing bug
[1]: /wp-content/uploads/2008/06/deluge0591.png) [2]: http://deluge-torrent.org/downloads.php