I was talking to Wing Loon a few days back about how to bypass all the bandwidth throttling being enforced by our magnificent ISPs here. He recommended to try Deluge as he heard that it managed to bypass the bandwidth throttling.
I decided to try it out last night on my openSUSE 10.2 desktop. Install was pretty simple as the rpm was made available through YaST2 by adding the Guru source. Configured some ports to be forwarded though my IPCop and finally added torrents from releaselog and thepiratebay, my 2 favorite torrent sites.
Immediately, I saw a miracle unfold in front of me, something I thought I would never see again since moving back from PenangFon to Streamyx when I moved back to KL. I was getting 100kB ++ download speeds. At first, I did not believe it, so I cross checked by looking at my network utilization through IPCop and truly enough it was also showing speeds in access of 100kB.(See screenshot below to believe). Well, I know 100kB ain't much when compared to what other ISP's provide in other countries but for now 100kB is a luxury here.
Woo Wee!!! My torrenting mood is back on now…..!!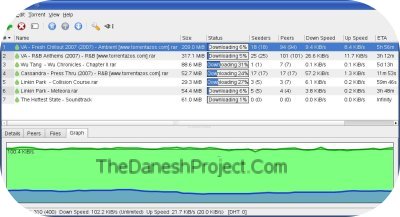 Deluge is currently Linux only but ports might be coming out soon.
Get Deluge BitTorrent Client (0.5.4 is the latest stable release at the time of this post. )