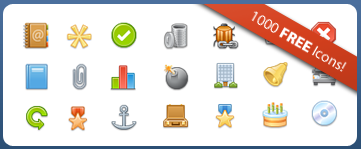 FatCow is giving back to community by releasing 1000 awesome icons for free.
The icons are in 16 and 32 pixel and are distributed under the Creative Commons Atribution 3.0 license. You can use the icons for commercial and personal use, all that's required is a link back in your credits.
FatCow is a hosting company dedicatedto saving the planet. Theie datacenter is currently 100% wind power.
Source: FAtCow