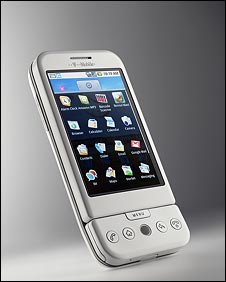 T-Mobile today officially announed it new smart phone G1 which is powered by Google Android. Watch the webcast
It might not look as cool as the iPhone but from a application standpoint it's a whole different story.
Android market being an open market place for Android Apps will anyone to publish their apps and users will be able to choose what apps they want to install and run.
Here's G1's specs;
Size: 4.6 x 2.16 x 0.63 in (117 x 55 x 16 mm)
Weight: 5.6 oz (159 g)
Display: 65K color screen, HVGA (480 x 320)
Talk Time: 5 hours
Standby Time: 130 hours
Memory: expandable up to 8 GB
Camera: 3.1 MP
Google apps: Maps, Gmail, YouTube, Calendar, Google Talk.
From what I've gathered G1 will start out at USD 176 and 25USD-35USD for the plans.
Source: GoogleSystem || TalkAndroid || T-Mobile || BBC