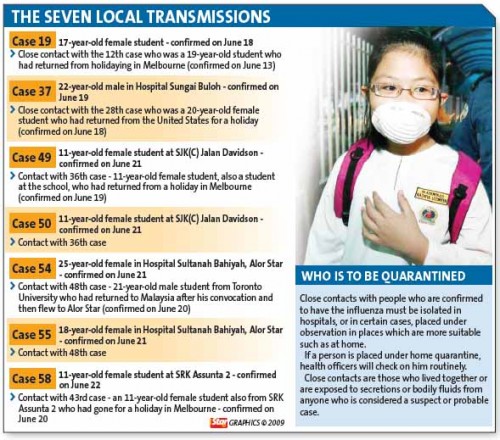 SRJKC Jalan Davidson , SRK Assunta 2 and Cempaka International School have all been ordered to close for a week or more following confirmed cases of the H1N1 flu (swine flu) amongst their students.
SRJKC Jalan Davison has 3 confirmed cases, Assunta reported 1 case so far and Cempaka International School reported having 2 confirmed cases of the H1N1 flu.
If your child has the flu, make sure he/her gets looked at by medical personnel. Keep them indoors, prevent any contact with others and drop school till the flu blows away.
Parents, time to freak out. Keep your children safe, it's not the time to be ignorant. It's not worth gambling with your child's health.