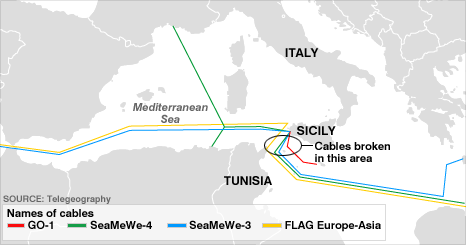 This from TM,
Dear Valued Customers,
Telekom Malaysia Berhad (TM) wishes to announce that there is a disruption of its Internet services due to circuits fault on Southeast Asia - Middle East - Western Europe 4 (SMW4) submarine cable network between Palermo (Southern Italy) and Alexandria (Northern Egypt) linking Malaysia to Europe. Due to this, customers using Internet services may now experience slow browsing while accessing websites hosted in Europe.

In addition, customers using other IP services such as Virtual Private Network (VPN) and other critical business applications linked to Europe may also experience some service degradation.

To alleviate the problem, some of the links have been rerouted to alternate routes to ease the congestion.

Restoration works on the affected cables are already in progress. However, in the restoration process, traffic to Northern America may experience minor degradation while traffic to other countries is not affected. TM expects the complete recovery of its services by December 31, 2008. TM will make further announcements on the progress of the restoration works.

TM wishes to assure its customers that it is undertaking all necessary measures to restore communications services for its customers as soon as possible.

Customers can call TM at 100 and select "Internet Services" or e-mail us at [email protected] for any Internet related problems.

Thank You.
TM released this notice to it's subscribers notifying them of the current Internet service interruption experienced by many. The disruption was caused by 2 submarine lines (SE-ME-WE-4 and SE-ME-WE-3) in the Mediterranean being severed. These were the same cables that were severed earlier this year too.
Restoration work is being carried out by the "France Telecom Marine" team and is scheduled to be completed by end of year or sooner. 
To be frank, I can't tell the difference because my Internet has always been bad. Instead of spending billions on fibre to home, I personally feel that TM to should invest in more international lines. A third world country, so we claim, the Internet is the best tool to elevate our status. don't ya think?
Source: BBC