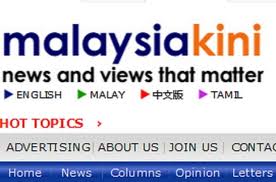 Malaysia's independent news provider Malaysia accessible through http://www.malaysiakini.com and http://m.malaysiakini.com/en might be down (.i.e blocked by our ISP) for many of you.
Try these alternatives.
Alternatives;
http://www.mkini.co/ - Mirror
https://twitter.com/malaysiakini - Twitter @malaysiakini
https://www.facebook.com/MalaysiaKini - Facebook
You can't block the internet!! Get that through your thick skulls …
This list will be updated as more mirrors show up so check back often.
Update:
http://www.malaysiakini.com/
https://www.malaysiakini.com/
http://m.malaysiakini.com/
http://www.mkini.co/
https://www.facebook.com/MalaysiaKini
https://twitter.com/malaysiakini
https://twitter.com/Yahoo_MY
https://twitter.com/premesh
http://www.KiniTV.com/
http://www.youtube.com/kinitv
https://www.facebook.com/kinitv
http://www.youtube.com/malaysiakini
http://live.undi.info/
https://ge13.s3.amazonaws.com/
http://bit.ly/mkinige13