![](/wp-content/uploads/2008/04/header_011.gif" alt="Astro" width="147" height="79" />
Like everything else with Astro, it did not work they way they said it would.
Received my new Astro gold smart card in the mail today. Came home and decided to start the upgrade.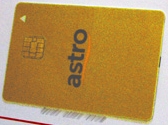 The attached manual stated that when the new card was switched out with the old card while viewing a program a dialog box would pop up notifying me of the upgrade. That didn't quite happen.
Falling back to the normal update process I decided to leave my Astro in standby mode for 30 mins. No progress too.
Frustrated I called Astro's customer care at 1300 82 3838. I was put on hold for 30mins and the damn line dropped. I called in again and had to hold for another 30mins before I got an agent.
I explained to her and the fix she provided was simple.
Slot your old smart card back in and reboot Astro.

Go to channel 880. You'll see upgrade instructions asking you to insert the new gold card. Take out the old smart card and slide in the new one. Remember to follow the white arrow on the card. Press OK.

You'll get a new notice saying "upgrade will take 10 minutes and your Astro will go to standby". Press OK and your Astro should go to standby mode.

Keep your eye on the Astro decoder now. You'll see the upgrade status scrolling with the completed percentage. When at 100% your decoder with reset and the display will show the current time. The upgrade is now complete.
Well, it wasn't that hard, but what gets to me is Astro's customer service. You can never get hold of them when you really need them. Thankfully the agent who attended to me today was polite and really helpfull.