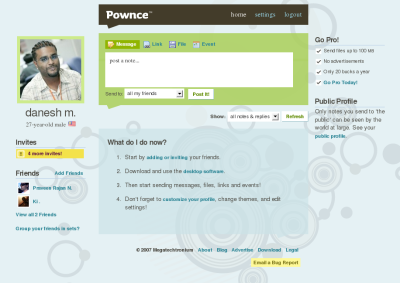 _ What is Pownce?_
Pownce is the latest tool to come from the creator of the Digg. Kevin Rose(The kid who made 60million in 18months). It's a social-networking and micro blogging tool. Pownce let's you share messages, links, events and files with those who are within your friends circle in Pownce.
The free version has a 10MB file size limit whereas the pro version is priced at USD20/year and 100MB file size limit.
Pownce accounts are currently by invite only. Praveen Rajan was kind enough to share an invite with me so now it's my turn to spread the love.
I have 4 invites for from my Pownce account left. If you are interested please drop me a comment and a link back to you site/blog and I will send you an invite within a day or so.
Edit 1 : I am currently out of invites. Sorry