Ubuntu 7.04 (Feisty Fawn) is now shipping now through ShipIt.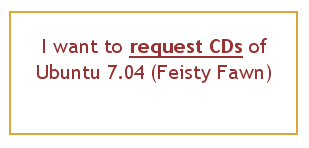 ShipIt is also accepting request for Kubuntu 7.04 (Feisty Fawn) and Edubuntu 7.04 (Feisty Fawn) CDs.
Below are the request options but if you need more CDs, then use the special request form for that. Remember that the special request takes longer to process and goes through an approval process. Don't be surprised to get rejected.
1 CD (1 64-bit PC Edition)
1 CD (1 PC Edition)
3 CDs (3 PC Edition)
3 CDs (2 PC Edition, 1 64-bit PC Edition)